Craig Lucas' aptly named Reckless is a satiric fantasy set in the holiday season that is not quite in keeping with the merry tradition of the genre. But in its own special way this comic odyssey, which is as dark as it is hilarious, is as wonderful and indelible as anything Frank Capra could have imagined.
The intricate story now playing at San Jose Stage Company features a resilient, albeit pollyannaish, protagonist Rachel Fitzsimmons (Halsey Varady), coping with a life depicted as a succession of 28 fanciful episodes. At first they appear haphazard, even surreal, but as the story unfolds the thematic underpinnings reveal themselves as both wisely deliberate and firmly grounded in reality.
The play starts with a euphoric Rachel, at home on Christmas Eve, reminiscing about her childhood memories of the festive occasion. But things go south very quickly, as her husband Tom (an affecting Will Springhorn Jr.) warns her that he's placed a contract out on her life and that a hitman will be breaking in to kill her at any moment.  She narrowly slips away through their bedroom window, thus embarking on an unexpected and amazing journey into self-discovery.
Theater News: Mike Tyson's One-Man Show Coming to San Francisco
Halsey Varady's portrayal of the beleaguered heroine is a genuine tour de force.
Every principal character in the play is not exactly whom they appear to be; each one has adopted a persona in an attempt to flee a past that the playwright posits is simply inescapable.  Mr. Lucas suggests that we are all inextricably tied to and affected by that which has preceded us. Moreover, he asserts that to find "meaning" in it all is a futile undertaking, and that all one can do is to come to terms with what has happened and move forward as best one can. And then, perhaps, the choices one makes will lead to a better existence or even redemption – or maybe not.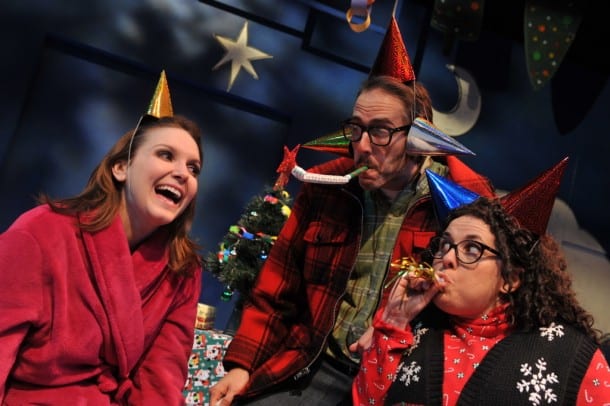 Rachel's method for dealing with the cards she's dealt is to constantly verbalize her thoughts and observations and  to place a positive spin on all that befalls her – tantamount to a stream of consciousness monologue. Her denial and self-delusion may be disconcerting and even annoying at times, but it is an effective way of dissociating herself from the pain and loneliness that envelops her. Unfortunately, this coping strategy also serves to separate herself from her own identity.
Halsey Varady's portrayal of the beleaguered heroine is a genuine tour de force, executing the voluminous lines with a manic intensity that would be exhausting to watch if not for her natural charm and technical virtuosity. Her timing is impeccable, made all the more difficult by the sign language she's required to employ during many of her scenes. And despite the emotional distance required of the role, Ms. Varady somehow manages to convey an innocence and melancholy that draws one in. Brava!
The supporting cast are required to play multiple roles, and each member does an excellent job in striking the right chord between realism and the absurd. Of particular note are the versatile Dena Martinez as the many diverse therapeutic "doctors" who Rachel encounters along the way, and the superbly talented Michael Navarra and Katie O'Bryon as the couple who take her in early on.
And Kenneth Kelleher directs it all seamlessly and at a brisk pace, staging the many transitions with the clever use of props, whimsical costumes by Jean Cardinale, exquisite sound design by John Koss, and the creative lighting of the inimitable Michael Palumbo.
Don't miss this latest, memorable entry by San Jose Stage Company that's head and shoulders above the usual holiday fare.