I know what you're thinking: oh no, not another robot sex movie. Sure, sure, you've seen this all before (?). Robot f@#%ing machines. The dungeon asylum of robot blacksmiths. F@#%ing to death by horses. Robot porn stars…
Wait a sec, did I mention that Meaning of Robots is an official Sundance entry?
The filmmakers just sent me a screener, all four minutes of it, and… well, lets just say it's a change-up from the heavier features we've screened so far (Buffalo Girls, Teddy Bear).
To be clear, this is actually a documentary robot film by Matt Lenski about another guy making a stop-motion robot sex film.
A short documentary, the film profiles the "benevolent" Mike Sullivan. It seems he has a robot fascination that started benign, before turning dirty. Very dirty. The making of a film about robots so consumed him that he holed up in his apartment for 15 years. The result is apparently a stop-motion robot sex film. Yes – I know – again with the cliches.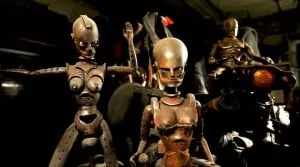 I'm told this is a character study. A Henry Darger-esque allegory set in a studio apartment (on 27th street in New York).
So how to review this film?
Well, it was short. It features robots, yes. It features unmentionables. This guy is indeed up to his neck in robots with wieners. What transpires is not exactly what I was expecting. Then again, I wasn't sure what the heck to expect going in. Let's just say it's not Tree of Life. And it's not Barbarella. Those weren't documentaries and they were (painfully) much longer than four minutes. Let's split the difference and call it a creative day.
I won't spoil the rest. If you're in Park City for Sundance, you might want to duck your head in for the world premiere of this short. Just be sure to come back later and do tell.
Want a glimpse into the madness? Watch this teaser.
Meaning Of Robots – Trailer (OFFICIAL SELECTION 2012 SUNDANCE FILM FESTIVAL)
Meaning of Robots

3 out of 5 stars (Recommended)
Directed by Matt Lenski
U.S.A., 2011, 4 min, color
Sundance Film Festival, Shorts Competition

Clint says: A cross between 60 minutes and Barbarella… I think…

3:00 pm 1/20/2012 Yarrow Hotel Theatre Park City
12:30 pm 1/21/2012 Redstone Cinema 8 Park City
12:00 pm 1/22/2012 Salt Lake City Library Salt Lake City
11:30 am 1/25/2012 Prospector Square Theatre Park City
12:15 pm 1/28/2012 Holiday Village Cinema 2 Park City